Beach Camping Parks & Campgrounds Arkansas (AR)
Arkansas has many rivers, lakes and reservoirs so finding a nice beach campground is not a difficult task, the only problem is to choose the right one for you..
Jacksonport State Park
205 Avenue Street
Newport, AR 72112
870-523-2143

This State Park has a rich history that goes back to the Civil War and was once a thriving river port.
Now it's a beautiful place to visit with your family.
What waits for you here is the sandy beach on the White River.
And for your RV – several campsites with full hookups able to accommodate even large Class A motor-homes.
 
Amenities and features include:

20 Class A campsites with water and electric hookups, including 50 amp service at all sites
Swimming beach on the White River
Standard pavilion 
Picnic sites
Playground
Great walkways to stroll along the river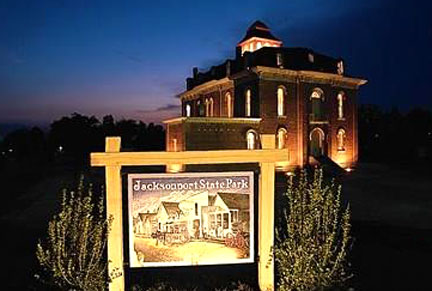 ---
White Oak Lake State Park
563 Highway 387
Bluff City, AR 71722
870-685-2748

This park is adjacent to Poison Springs State Forest and is located on the shore of the Lower White Oak Lake.  Abundant wildlife and tons of fishing opportunities, offers visitors a relaxing place to stay while on vacation. Numerous hiking and biking trails allows for active vacations and close contact with the Mother Nature.

Amenities and features include:

Marina with boat rentals
45 campsites that vary in Class A, Class B and regular tent sites
Convenience store
Standard pavilion 
Picnic sites
Playground
Visitor Center
Rental place for bicycles
Hiking trails

---
Visitor's story....

We all know camping is a great time whether you sit all day by the camper, spend the day at the beach or see some attractions in the surrounding area.
Beach camp parks Arkansas (AR) are nice setting for enjoying your time at the campgrounds. Many campgrounds also have daily activities if you wish to remain on sight. Before you decide what to do, you might want to have a look at some of the attractions in the state.
Arkansas is considered a all natural state with scenic tours and other interesting things to do. Go into Mountain View, listen to some bluegrass, and listen to the folks carry on some conversations with the visitors.
You might even find Hot Springs area filled with things you want to see. The alligator farm and petting zoo or the Mountain Observation Tower, which I have heard leaves you with a beautiful memory and a sense of peace.
Although many areas of Arkansas offer something for the entire family, you might want to take a quiet and peaceful walk on some of the hiking trails they have near the campgrounds. The beach camp parks Arkansas (AR) always leave you with a feeling of tranquility and some great memories.
If you need a starting point to find a beach camp, you can start here:
Jacksonport State Park
205 Avenue Street Newport,
AR 72112 870-523-2143

White Oak Lake State Park
563 Highway 387 Bluff City,
AR 71722 870-685-2748
 About Us / Privacy Policy / Resources
Go from Beach Camping Parks & Campgrounds Arkansas to Pop Up Campers Trailer Home
Beach Camping Parks Campgrounds Alabama / Beach Camping Parks - Campgrounds Alaska / Beach Camping Parks - Campgrounds Arizona (AZ) / Beach Camping Parks - Campgrounds California (CA) / Beach Camping Parks - Campgrounds Colorado (CO) / Beach Camping - Campground Parks Connecticut (CT) / Beach Camping Parks Campground Delaware (DE) / Beach Camping Parks Campgrounds Florida (FL) / Beach Camping Parks Campgrounds Georgia (GA) / Beach Camping Parks- Campgrounds Hawaii (HI) / Beach Camping Parks- Campgrounds Idaho (ID) / Beach Camping Parks - Campgrounds Illinois (IL) / Beach Camping Parks - Campgrounds Indiana (IN) / Beach Camping Parks - Campgrounds Iowa (IA) / Beach Camping Parks - Campgrounds Kansas (KS) / Beach Camping Parks - Campground Kentucky (KY) / Beach Camping Parks - Campgrounds Louisiana (LA) / Beach Camping Parks - Campgrounds Maine (ME) / Beach Camping Parks - Campgrounds Maryland (MD)