Beach Camping Parks - Campgrounds California (CA)
It will be difficult to miss beach campground in California; State's long coastal line with sandy beaches is a dream for aficionados of sunbathing and water-sports.....

Doheny State Beach
25300 Dana Point Habor Dr.
Dana Point, CA 92629
949-496-6172

    A beautiful campground that is very close to the beach.
It is an excellent site if you want to camp out with your family, even with your pet too.
The picnic sites are large, with grassy spots, with picnic tables and barbecues.
The beach is excellent, while water is inviting for swimming.  Gentle waves in this part are great for beginners in the surfing or paddle boat activity. Fishing can also be done in the waters near the beach. When it is a low tide in the area, it's great to spot the local marine wildlife and search for sea shells.
The campground will also offer bathrooms, change rooms, snack bars, bike rental, lifeguards, and park rangers. So it is a safe area to spend time with your family. All cultural and social event happen in this area, so you might have a chance to catch one of them while you are camping here. A volleyball court is also available on site, if you want to play a team game.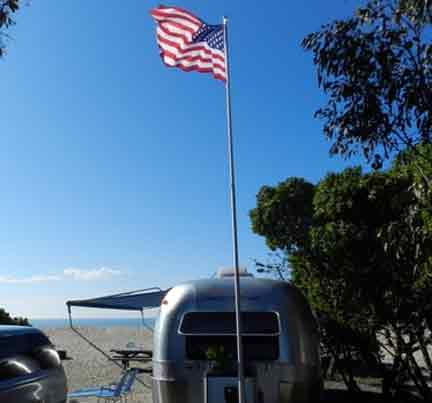 ---
San Elijo State Beach
2050 So Coast HWY 101
Cardiff,  CA 92007
760-753-5091

    You can camp here in a tent or RV, but it won't matter because you will still have a great time. The sites for RV camping have full hookups, including water, sewer, electric and free wireless internet. Clean restrooms, showers, and a laundry service also await you in the campground. A camp store is also available if you are in the mood for some small shopping. Swimming, surfing, snorkeling, and diving are some of the activities that can be done on the beach side.
Hiking and biking are other fun possibilities, and in the evening you can dine out at one of the restaurants located nearby. The campground is dog-friendly, and it also has a particular beach section where you can take your companion for some fun. The beach at this campsite is fantastic, and it is great for practicing, or learning, surfing skills.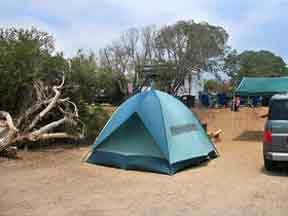 ---
Visitor's story.....

You are taking the RV or the pop up camper to sunshine state and you prefer to stay at beach camp parks California (CA).
Well you will not have any problem finding great campgrounds near some nice attractions. The weather is outstanding and the sun shines more often than not.  If you find yourself looking for a place to camp that allows you to see many different attractions, a list of campgrounds will help.
One place most families love to see is Disney's Adventure Park. Yes, you can find campgrounds all around this area and it actually saves you money. Disneyland offers you days of excitement if you plan to spend more than one day. You can plan an entire camping trip around this adventure along. The Hollywood Walk of Fame and the Frederick's of Hollywood Lingerie Museum also come to mind when visiting California.
Whatever you decide to do, staying at beach camp parks California (CA) allows you to save money and have a nice place to relax in the sun when you are really for a break from all the adventures. Not many people think about all the other things to see when camping, but there is a lot of attraction everywhere to enjoy while camping.
Searching for campgrounds always makes people wonder where to start, so I have given you one right here:
Doheny State Beach
25300 Dana Point Habor Dr. Dana Point
CA 92629 949-496-6172

San Elijo State Beach
2050 So Coast HWY 101 Cardiff
CA 92007 760-753-5091
 About Us / Privacy Policy / Resources
Find here 250+ Beach Camping Parks
Go from Beach Camping Parks - Campgrounds California (CA) to Pop Up Campers Trailer Home
Beach Camping Parks
Beach Camping Parks Campgrounds Alabama / Beach Camping Parks - Campgrounds Alaska / Beach Camping Parks - Campgrounds Arizona (AZ) / Beach Camping Parks & Campgrounds Arkansas (AR) / Beach Camping Parks - Campgrounds Colorado (CO) / Beach Camping - Campground Parks Connecticut (CT) / Beach Camping Parks Campground Delaware (DE) / Beach Camping Parks Campgrounds Florida (FL) / Beach Camping Parks Campgrounds Georgia (GA) / Beach Camping Parks- Campgrounds Hawaii (HI) / Beach Camping Parks- Campgrounds Idaho (ID) / Beach Camping Parks - Campgrounds Illinois (IL) / Beach Camping Parks - Campgrounds Indiana (IN) / Beach Camping Parks - Campgrounds Iowa (IA) / Beach Camping Parks - Campgrounds Kansas (KS) / Beach Camping Parks - Campground Kentucky (KY) / Beach Camping Parks - Campgrounds Louisiana (LA) / Beach Camping Parks - Campgrounds Maine (ME) / Beach Camping Parks - Campgrounds Maryland (MD)