Beach Camping Parks - Campgrounds Illinois (IL)
Illinois has the best of two worlds: beautiful sandy beaches washed by fresh waters surrounded by abundant Mother Nature; find best campsites to take advantage of this paradise
Four Seasons Campground
721 East Carroll Street
Herrin, IL 62948
(618) 942-2069

    It is a place where you will find everything you need, starting with campgrounds for RVs, campsites for tent enthusiasts and fully equipped cabins for the pickiest.
The campground for tents has laundry services with accessibility for handicapped persons, shower house, and wireless internet connections.
The RV lots have dump stations and L-P gas fills, besides the traditional shower and laundry services.
The cabins are placed in intimate spaces, have fully equipped kitchens, satellite TV and internet.
You won't have time to get bored here because you can go fishing on the stocked pond on the campground.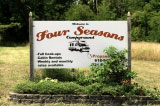 You can take strolls and enjoy the beautiful wildlife and scenery, play volleyball, tennis, go to the swimming pool and more.
Nearby you can find shops, a traditional wine trail and even rock climbing. So the area is worth to visit.
---
Lake Campalot
13520 Community Lake Rd State RT 4
Percy, IL 62272
(618) 497-2942

    It is a coquette campsite on the premises of a lake, with lovely shade from the trees and a sandy shore for entertainment in the summer. You can find here traditional camping spots, camping with water services, or with water and electricity services. You can also rent a camper, which will have all the commodities included for a carefree holiday. The campers have linen and towels, dishes, pots and many more. They also offer laundry services and picnic areas.
The campsite is opened all year long, and they allow pets. It is a great spot for fishing and many other fun activities. You can go swimming, hiking or biking, you can play basketball, volleyball or tetherball. There are also numerous local attractions, close to the campsite, which you can visit. The Lake Campalot campsite is clean, friendly and have everything you need for a family camp-out.

---
Visitor's story......

If you are traveling through Illinois and want to find campgrounds that have excellent facilities, but yet close to attractions, you can do just that.
Beach camp parks- campgrounds Illinois (IL) finds these parks everywhere in Illinois.
The beaches are clean and the water activities are endless.
Go swimming, waterskiing or just relax on the beach in the sun.
If you are staying for a few days want some adventure, see some of the attractions close by your campground.
Now why this happens is beyond me, but everyone loves to see the Sears Tower and view the world from the sky deck. Now if heights are not for you then you probably will not want to visit Six Flags Great America.
Although the thing that spins around real fast and the floor drops out and you are suspended in air, tight against the wall is exciting. Centrifugal Force I believe they called that contraption. Other attractions in the area are the museums and art institutes along with the Water Tower Place.
When you look for the beach camp parks- campgrounds Illinois (IL) has to offer you might find some that also have other activities for the kids and even the adults to do onsite. All these things make camping what it is today. Travel, camp and have a great time exploring.
Beach Parks Illinois
Four Seasons Campground
721 East Carroll Street
Herrin, IL 62948 (618) 942-2069

Lake Campalot
13520 Community Lake Rd State RT 4
Percy, IL 62272 (618) 497-2942
 About Us / Privacy Policy / Resources
Go from Beach Camping Parks - Campgrounds Illinois (IL) to Pop Up Campers Trailer Home
Camping Parks in US,  Campground Parks in Canada

Beach Camping Parks Campgrounds Alabama / Beach Camping Parks - Campgrounds Alaska / Beach Camping Parks - Campgrounds Arizona (AZ) / Beach Camping Parks & Campgrounds Arkansas (AR) / Beach Camping Parks - Campgrounds California (CA) / Beach Camping Parks - Campgrounds Colorado (CO) / Beach Camping - Campground Parks Connecticut (CT) / Beach Camping Parks Campground Delaware (DE) / Beach Camping Parks Campgrounds Florida (FL) / Beach Camping Parks Campgrounds Georgia (GA) / Beach Camping Parks- Campgrounds Hawaii (HI) / Beach Camping Parks- Campgrounds Idaho (ID) / Beach Camping Parks - Campgrounds Indiana (IN) / Beach Camping Parks - Campgrounds Iowa (IA) / Beach Camping Parks - Campgrounds Kansas (KS) / Beach Camping Parks - Campground Kentucky (KY) / Beach Camping Parks - Campgrounds Louisiana (LA) / Beach Camping Parks - Campgrounds Maine (ME) / Beach Camping Parks - Campgrounds Maryland (MD)