Beach Camping Parks - Campgrounds Louisiana (LA)
Louisiana is one of these states where time runs slower, it will not take much to find good beach camping parks proving than sun, sand, blue waters and sky can help to "slow down" the pace of life.....
 Sabine River Authority/Toledo Bend Reservoir
 15091 Texas Highway
 Many, LA 71449-9730
 (318) 256-4112

    A great escape out in nature, which can be done with a tent, an RV or in a rented cabin.
The choice is only yours when it comes to finding the most suitable version for a great vacation.
You can enjoy the magnificent landscape all year round as the sites available for camping are opened all the time.
The cabins available for rent are completely furnished and have an entirely functional kitchen. So your vacation while staying here will be most comfortable.
If you have an RV it's even better, because you will find full hookups and beautiful camping sites near the river. Grills and picnic tables are also available in this spot. The area is great for fishing and has sandy shores in some parts, which make it great for swimming and sunbathing. It has a playground for children, and it is a great area for morning jogging and biking.

---
Island House RV Park
122 Smith Lane
Grand Isle, LA 70358
(504) 915-0382

    An excellent camping site in Louisiana for RVs. The camping site is paved and has full hookups. They have an onsite laundry service and the shop, gas, and food supplies are only a few steps away. The beach is very close, so you can enjoy a day swimming anytime you want. A great area for fishing also, and the owners of the park will gladly share with you information about the most suitable bait and best spots for fishing. If you have children, there is a very close playground in the vicinity of the RV Park.
If you have captured fishes, you will have a great place to clean them, with water and an umbrella for shade. For nature enthusiast, the area is great for bird watching and nature trails. If you just want to relax and read a good book, the park owners have a vast collection of books and are glad to share with their visitors.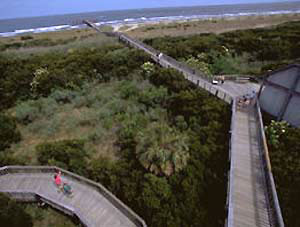 ---
Visitor's story....

One of my favorite things to see in Louisiana is the alligator park.
Many different beach camp parks campgrounds Louisiana (LA) offers you, are located right around this attraction and many more. If you want to enjoy your days sightseeing and the rest of the day swimming and doing other activities around the campgrounds.
Camping is always fun and adventurous, but when you plan to see the area around you, it is even more exciting. If you happen to be in the LaPlace area of Louisiana, you might want to take a Cajun Pride Swamp tour. This can help give you some ideas about what it would be like to live in the area.
You might want to visit some of the many plantations around the campgrounds you stay at as well as the zoos and museums. As you can see, Louisiana has many things to do while camping.
The beach camp parks- campgrounds Louisiana (LA), have all the things you want when you camp out. Whether you need daily activities or just some plain old relaxation, you can find it at any of the area campgrounds. Finding these campgrounds is always easier when you have somewhere to start looking.
Beach Parks Louisiana:
Sabine River Authority/Toledo Bend Reservoir
15091 Texas Highway
Many, LA 71449-9730 (318) 256-4112

Island House RV Park
122 Smith Lane
Grand Isle, LA 70358 (504) 915-0382
 About Us / Privacy Policy / Resources
Go from Beach Camping Parks - Campgrounds Louisiana (LA) to Pop Up Campers Trailer Home
Beach Camping Parks Campgrounds Alabama / Beach Camping Parks - Campgrounds Alaska / Beach Camping Parks - Campgrounds Arizona (AZ) / Beach Camping Parks & Campgrounds Arkansas (AR) / Beach Camping Parks - Campgrounds California (CA) / Beach Camping Parks - Campgrounds Colorado (CO) / Beach Camping - Campground Parks Connecticut (CT) / Beach Camping Parks Campground Delaware (DE) / Beach Camping Parks Campgrounds Florida (FL) / Beach Camping Parks Campgrounds Georgia (GA) / Beach Camping Parks- Campgrounds Hawaii (HI) / Beach Camping Parks- Campgrounds Idaho (ID) / Beach Camping Parks - Campgrounds Illinois (IL) / Beach Camping Parks - Campgrounds Indiana (IN) / Beach Camping Parks - Campgrounds Iowa (IA) / Beach Camping Parks - Campgrounds Kansas (KS) / Beach Camping Parks - Campground Kentucky (KY) / / Beach Camping Parks - Campgrounds Maine (ME) / Beach Camping Parks - Campgrounds Maryland (MD)