Pop Up Camper Rentals New Mexico (NM)
Pop-up camper rentals in New Mexico may be the best way to enjoy there vacation in nature

Hesitating about your next vacation?
Don't know where to go? Well, New Mexico is a place that is surely worth visiting.
It is a state where you can experience desert sand, sun, mountains, rivers and many other fascinating and untouched wonders of nature.
With its great history, magnificent scenery and opportunities for many outdoor activities, New Mexico absolutely earns the title "Land of Enchantment".
If the history is something that occupies your mind, then New Mexico has a lot to offer for you. It is a home to many of the most famous and the most visited museums in the United States. One of them is New Mexico Museum of Natural History and Science, which offers a fascinating survey of the American Southwest from prehistoric times to the present day.
Here visitors may see an impressive life-size model of a dinosaur, artificial volcano, reproduction of an Ice Age cave habitation. Another amazing museum in New Mexico is Museum of International Folk Art which has the largest collection of international folk art in the world, including baskets, textiles, wood carving and ceramics. Museum of Indian Arts and Culture is devoted to the traditional arts of the American Southwest and it has impressive displays of Native Americans' arts and crafts.

RV-ing across New Mexico you may stop at El Morro National Monument....

While traveling through New Mexico you will find out that it has some of the most amazing theme parks, zoos, aquariums and national parks where one can discover thrilling rides, wildlife, marine life and the true beauty of the landscape. One of the most popular amusement parks is Cliff Amusement Park located in Albuquerque.On more than 15 acres it offers family rides, water rides, roller coasters, bumper cars and arcades.
Western Playland is another thrilling place with the most breathtaking rides. The park has over 30 rides that give unlimited hours of fun and entertainment for the whole family. If you want to have fun yet gain some educational experience and to learn something new about the environment make sure to visit Albuquerque Biological Park. The park also called ABQ Bio Park, consists of Albuquerque Aquarium, Rio Grande Botanic Garden, Rio Grande Zoological Park and Tingley Beach.
The Albuquerque Aquarium offers exhibits of saltwater species from the Gulf of Mexico. Rio Grande Botanic Garden displays plants from arid climates, including the American Southwest, Mediterranean climate zones of Spain, Portugal, Turkey, South Africa, Australia and Chile. For those who like animals Rio Grande Zoo is the perfect place to enjoy exotic and native animals such as lions, polar bears, elephants, kangaroos, koalas, Mexican wolves, toucans, tamarins and many more. The Zoo provides educational exhibits offering information about wildlife, showing animals in their natural habitats.

Among national parks, the White Sands National Park is an excellent example of New Mexico's nature. It lies in the heart of Tularosa Basin. Here white gypsum sand has built up into an extraordinary landscape of dunes up to 60ft high which are constantly being displaced by the wind. Another park - Carlsbad Caverns National Park is mostly attractive place for outdoor lovers. It preserves one of our planet's foremost cave systems. With more than 19 caves to explore, the park offers many rocky slopes where visitors can discover the hidden treasure.
In order to visit most of the attractions in New Mexico, the ideal way would be renting a camper at some of the rental companies listed below.


---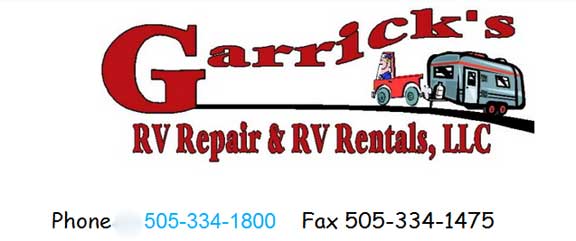 Source: www.garricksrv.com

Garrick's RV is a family owned business that has been present for more than 10 years. They offer travel trailers, motor homes and toy haulers. If you want rent a travel trailer the rate is $75 for one night, for a motor home the charge is $150 per night while toy hauler is $85. All rentals are a 3-nights minimum.

Garrick's RV
119 County Road           
3566  Flora Vista, NM
(505)-334-1800
Website: garricksrv.com


---

Source: www.americandreamvacations.net

American Dream Vacation
2001 Randolph Rd. SE
Albuquerque, NM 87106
(505)-433-4650


---
Cruise America
12400 Skyline Rd
Albuquerque, NM 871123
(505)-275-3550

---
Visitor's story.....

Two of us near a lake, where nature acts as our fence Come my dear to New Mexico, let trees behold our existence.
This is no poetry just an invitation I sent to my beloved inviting her to a camping trip to New Mexico.
She agreed to go on one condition that I hire pop up camper rentals New Jersey for the trip; since I love her I respect her decision completely. And here we come, New Mexico!
The place is not just another park with flowers and greenery but possess a very rich culture and heritage.
Most famous amid all are Mesa Verde National Park, just a few miles from northwest New Mexico. It has lot to offer in natural scenic view like dry plateaus, pine or aspen forests, canyons and beautiful snow covered mountains.
There are several fascinating places to stopover like Aztec Ruins National Monument. This locale was constructed by people from Chaco around 1200 A.D. it has a ruined pueblo of a huge size and a restructured Great Kiva.
Our art and spiritual buds got peace at Spanish abode churches; the most legendary is in Ranchos de Taos, 80 minutes north of Santa Fe and even Chimayo is also famous for the same. Carlsbad Caverns National Park is most impressive in southern part of the city. The place has the most unique treasures of historic stories about bats and their successors.
There are several other exciting sites like The Gila Cliff Dwellings National Monument in south west of New Mexico and an excursion up into the mountains to stopover the ghost town of Mogollon could be bona fide entertainment
People who are searching for some romantic spots here would find several landscapes and camping certainly is great way to be away from disturbing noises and TV.
You have the freedom to set out where you please and boredom from one single place is never a problem. You can do all this in a good budget with hiring pop up camper rental New Mexico like we did.
 About Us / Privacy Policy / Resources
Go from Pop Up Camper Rentals New Mexico (NM) to Pop Up Campers Trailer Home
Pop Up Camper Rentals Alabama / Pop Up Camper Rentals Alaska / Pop Up Camper Rentals Arizona / Pop Up Camper Rentals Arkansas / Pop Up Camper Rentals California / Pop Up Camper Rentals Colorado / Pop Up Camper Rentals Connecticut / Pop Up Camper Rentals Delaware / Pop Up Camper Rentals Florida / Pop Up Camper Rentals Georgia / Pop Up Camper Rentals Hawaii / Pop Up Camper Rentals Idaho / Pop Up Camper Rentals Indiana (IN) / Pop Up Camper Rentals Iowa / Pop Up Camper Rentals Kansas / Pop Up Camper Rentals Kentucky / Pop Up Camper Rentals Louisiana (LA) / Pop Up Camper Rentals Maine / Pop Up Camper Rentals Maryland (MD) / Pop Up Camper Rentals Massachusetts (MA) / Pop Up Camper Rentals Michigan (MI) / Pop Up Camper Rentals Mississippi (MS) / Pop up Camper Rentals Missouri MO / Pop Up Camper Rentals Montana (MT) / Pop Up Camper Rentals Nebraska (NE) / Pop Up Camper Rentals New Jersey (NJ) / Pop Up Camper Rentals New Mexico (NM) / Pop Up Camper Trailer Rental