Pop Up Camper Rentals Idaho
Camper rentals in Idaho may have the best answer for you how to enjoy your vacations in their state...

When looking for a fun and an interesting place to travel, to see many beautiful sights, Idaho is certainly the right place for that because it has to offer more than most travelers can even imagine.
It is one of the most beautiful and fascinating destinations for family vacations.
With a range of attractions, mesmerizing natural views and many natural wonders, this place attracts numerous travelers from all around the world.
BTW – for good reasons the state has earned the nickname of "Gem State".
One of very exclusive places in Idaho is the Sun Valley. Situated in southern Idaho, during winter season it attracts numerous skiing enthusiasts while during the summer, the place is ideal for hikers, mountain bikers and other outdoor adventurers. Burgdorf Hot Springs is home to hot springs surrounded by the Payette National Forest. Balanced Rock is a huge natural wonder located in the South of Buhl in the Salmon Falls Creek Canyon. Carved by the wind it is 48 feet tall and weights nearly 40 tons.

Let's follow Steve Oleson on his RV trip to southeastern Idaho...

In the southeast part of Idaho, you will find the Craters of the Moon National Monument. It is a lunar landscape formed by volcanic eruptions between 15,000 and 2,000 years ago. When you reach the central Idaho, you will come to the Sawtooth National Forest which provides many miles of hiking and horseback riding trails, cross-country skiing and snowmobiling opportunities. This place features three mountains ranges, forests and more than 300 lakes.
Shoshone Indian Ice Caves are large lava ice caves that are located north of Shoshone where visitors can see Indian artifacts, gems and minerals. If you travel through Idaho during the spring the Snake River Canyon is the attraction that definitely should be seen. Heading toward south central Idaho, you will find another "must-to-visit" - the City of Rocks National Reserve. It is a perfect spot for more adventurous outdoor activities like rock climbing and hiking. This fascinating place features numerous massive boulders that are more than 300 feet high.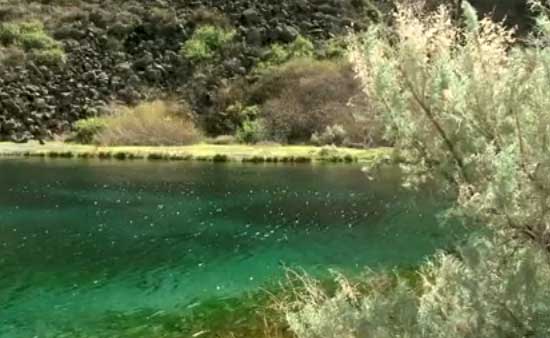 Box Canyon State Park - Idaho

Idaho is surely interesting and amazing state and traveling with a camper through it can bring an unforgettable experience.

---
Rent for Fun is family owned Idaho RV Rental Company specialized in renting motor homes and travel trailers. The company offers vehicles on a three day minimum rental at very affordable rates. Motor homes rented at Rent for Fun are luxuriously equipped, comfortable and easy to drive having great maneuverability. Travel trailers offered by the rental company make the trip a joyful experience with added space and amenities. They are lightweight, easy to tow, with plenty of sleeping capacity, ideal for family vacation.
       
Rent for Fun Luxury RV Rentals
814 S. Rising Sun Dr.
Nampa, ID 83686
(208)-697-6136
Website: rentforfun.net


Short presentation of Rent for Fun Luxury RV Rentals
---
American Carriage Rentals is located in the heart of Idaho Falls, offering high quality motor homes and travel trailers rentals. They have large variety of models to accommodate customers' needs and budget. All units rented by American Carriage Rentals are very clean and well maintained.

American Carriage Rentals
Idaho Falls, ID 83405
(208)-529-5535
Website: rv-rentals-yellowstone.com


---
Another rental company worth to consider when visiting Idaho is Cruise America. It is a nation-wide company having rental offices in most US states.

Cruise America
117 N 21st Ave
Caldwell, Idaho, 83605
(208)-455-6289
Website: cruiseamerica.com


---
Visitor's story.....

A vacation in Idaho is what my kids always wished for; they had read and heard so much about the state that it was an absolute treat for them to visit the place.
But when I joined the word camping with Idaho they were actually surprised, even my wife was a little hesitant about details and arrangements.
But they didn't know about the second surprise I had in store for them by the name of pop up camper rentals Idaho.
We were all set to enjoy the gem state with interesting lakes, parks and museums.
We visited craters of the moon national monument it was indeed an interesting place, Bear Lake was another delightful park that offered amazing water sports and splendid camping ground to us.
We also got to fish Bonneville Cisco run, the rare breed of the state. The state possesses a huge list of exciting places but we managed to visit only few more. Castle rocks state park was a hit with kids as they enjoyed several recreational activities such as rock climbing, biking, snowshoeing and exceptional bird watching.
Shoshone Falls were amazing with outstanding height of around 37 feet. Thousand spring state park also known as magic valley of Idaho was great with its awesome scenic beauty and six separate interesting units. We enjoyed several potato dishes in the state and were quite comfortable on the entire sites meant for camping. Along with natural scenery we enjoyed dining in restaurants and shopped some great stuff at Lewiston.
Still so much was left to see that I promised my kids another trip. Now they certainly look forward to next one but only with pop up camper rentals Idaho.
 About Us / Privacy Policy / Resources
Go from Pop Up Camper Rentals Idaho to Pop Up Campers Trailer Home
Pop Up Camper Rentals Alabama / Pop Up Camper Rentals Alaska / Pop Up Camper Rentals Arizona / Pop Up Camper Rentals Arkansas / Pop Up Camper Rentals California / Pop Up Camper Rentals Colorado / Pop Up Camper Rentals Connecticut / Pop Up Camper Rentals Delaware / Pop Up Camper Rentals Florida / Pop Up Camper Rentals Georgia / Pop Up Camper Rentals Hawaii / Pop Up Camper Rentals Indiana (IN) / Pop Up Camper Rentals Iowa / Pop Up Camper Rentals Kansas / Pop Up Camper Rentals Kentucky / Pop Up Camper Rentals Louisiana (LA) / Pop Up Camper Rentals Maine / Pop Up Camper Rentals Maryland (MD) / Pop Up Camper Rentals Massachusetts (MA) / Pop Up Camper Rentals Michigan (MI) / Pop Up Camper Rentals Mississippi (MS) / Pop up Camper Rentals Missouri MO / Pop Up Camper Rentals Montana (MT) / Pop Up Camper Rentals Nebraska (NE) / Pop Up Camper Rentals Nevada (NV) / Pop Up Camper Rentals New Jersey (NJ) / Pop Up Camper Rentals New Mexico (NM) / Pop Up Camper Trailer Rental