Pop Up Camper Rentals Alabama
Try it once to see why for all future camping trips you will be using a pop up camper rentals....

Alabama is an amazing tourist destination with so many wonderful attractions and sites for an enjoyable vacation.
It is full of wide areas of beautiful terrains, sceneries, and places rich in historical heritage.
Starting from its mountains at the north to the attractive beaches in the south, Alabama offers varieties of activities for travelers of all ages and likings.
There are so many interesting places in Alabama that will charm and amaze you with a number of things to see.
If you come to Mobile, Alabama, you have to see Battleship Memorial Park where visitors can see the USS Alabama, a battleship, and the USS Drum, a submarine, aircrafts and tanks. Another interesting place to visit while camping in Alabama is DeSoto Caverns Park, which is the largest cave in this state.
Just the starter: beautiful scenes of nature in Alabama.....

When choosing the places of interest to visit in Alabama, Dauphin Island is one that should be on your list. Here, many beautiful beaches rival even the beaches of Florida. If you want to see octopus, seahorses, horseshoe crabs the Dauphin Island Sea Lab is the perfect place.
The largest city of Alabama is Birmingham, which is home to many wonderful attractions such as Visionland Park, botanical gardens and many more. In Birmingham is located the world's largest statue made of iron. Moreover, there are plenty of attractive sceneries like the Riverchase Galleria with lot of stores and restaurants under the biggest skylight of the world, the Treetop Nature Trail at Oak Mountain State Park, Gulf Shores with world-class beaches.
... and one more - this time exploring Alabama's Gulf Coast along the Bon Secour River....
If you are traveling with your camper, Alabama is a good choice to have an exciting and enjoyable vacation for you and your family. With so many things to see in Alabama, it is very difficult to cover them all in one trip but if you have enough time, everything is possible if you go with a camper.
---
D&N is at your service
Source: www.alabamarvservice.com

The best way to travel through Alabama is to travel with a camper, and if you have decided to do so you must know that one of the best solutions is to always the rental. When it comes to rent a camper in Alabama, there are many different places where you can do it.

D&N RV Service is located in Gunersville, in the middle of North America. They offer travel trailers and motor homes for renting. Before going her you should know that their recreational vehicles are upper middle to high-end production units. Each model is designed for retail lots not for the rental fleets. That's why their campers are more comfortable than any other rentals.

D&N RV Service
3619 AL HWY69
Guntersville AL 35976
(256)-571-9399
Website: www.dnnmarine-rv.com

---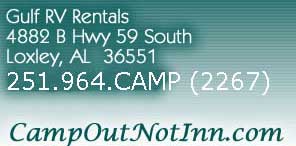 Please note Gulf RV Rentals' motto" Camp Out Not Inn" :-)
Source: www.campoutnotinn.com

Gulf RV Rentals is located in heart of Loxley, Alabama.
They offer lightweight travel trailers that sleep from three to seven people and can be towed by midsize car, truck, or SUV.
The price to rent a travel trailer is from $300 for 3 nights (4 days) where tax and insurance is included or $700 per week for slide outs.
Gulf RV Rentals
4882B Hwy 59 South
Loxley, Al 36551
(251)-964-CAMP(2267)
Website: www.campoutnotinn.com

---

Warm welcome from Southern Cruzin RV Rentals
Source: www.southerncruzinrvrentals.com

Southern Cruzin RV Rentals, LLC is a family owned and operated business located in Northport, Alabama. They have different models of campers for renting like Class A gas motor-homes, Class A Diesel Pushers, Class C Motor homes and travel trailers. However renting campers is not only what they have to offer. Besides renting, they offer RV service and repairs, they provide 24/7 roadside assistance on all of their RVs at no additional cost, they provide clean and well-maintained vehicles at very competitive prices. Their specialty is to help their customers find an RV park or campground location and to help them plan their next trip.

Southern Cruzin RV Rental, LCC
17758 Highway 43 North
Northport, Alabama 35475
(205)-339-6107
Website: www.southerncruzinrvrentals.com

---
Visitor's story......

Going to Alabama was something that I had wanted to do for a while, and honestly with over 20 state parks available camping in all of them was going to be impossible, but I did manage to get to a few.
The small handful of parks that I was able to visit was absolutely amazing.
One of the parks I visited was Oak Mountain State Park , as well as Lake Lauleen which were both gorgeous areas.
I must admit that going camping has always been somewhat of a hobby to me. The ability to connect with nature, sleep out under the stars and even see the incredible sights just cannot be matched. I took the opportunity to make my way through Alabama and decided to take my family with me. Of course taking small children, I really did not see a tent being the best option. After all, small children tend to prefer real beds that they are used to. I decided to get a pop up camper rental Alabama to take with me and it was one of the best choices I have made in a very long time.
I noticed that overall, everyone was much more comfortable and the entire trip was a pleasant experience. Of course, I enjoy camping anyway, but my children really loved the excitement of camping in Alabama as well.
I must admit the entire trip went much better than I could have ever imagined and I am hopeful that for our next vacation we can go camping somewhere again. Perhaps hitting more of the 20 parks that Alabama offers will be the next destination but in the meantime, I must say that the parks were stunning and I certainly enjoyed every moment.
I do know this, all future camping trips will be using a pop up camper rentals Alabama as well.
 About Us / Privacy Policy / Resources
Go from Pop Up Camper Rentals Alabama to Pop Up Campers Trailer Home

Pop Up Camper Rentals Alaska / Pop Up Camper Rentals Arizona / Pop Up Camper Rentals Arkansas / Pop Up Camper Rentals California / Pop Up Camper Rentals Colorado / Pop Up Camper Rentals Connecticut / Pop Up Camper Rentals Delaware / Pop Up Camper Rentals Florida / Pop Up Camper Rentals Georgia / Pop Up Camper Rentals Hawaii / Pop Up Camper Rentals Idaho / Pop Up Camper Rentals Indiana (IN) / Pop Up Camper Rentals Iowa / Pop Up Camper Rentals Kansas / Pop Up Camper Rentals Kentucky / Pop Up Camper Rentals Louisiana (LA) / Pop Up Camper Rentals Maine / Pop Up Camper Rentals Maryland (MD) / Pop Up Camper Rentals Massachusetts (MA) / Pop Up Camper Rentals Michigan (MI) / Pop Up Camper Rentals Mississippi (MS) / Pop up Camper Rentals Missouri MO / Pop Up Camper Rentals Montana (MT) / Pop Up Camper Rentals Nebraska (NE) / Pop Up Camper Rentals Nevada (NV) / Pop Up Camper Rentals New Jersey (NJ) / Pop Up Camper Rentals New Mexico (NM) / Pop Up Camper Trailer Rental