Pop Up Camper Rentals Maine
Dreaming about camping in nature?  then think pop up camper rentals in Maine

Maine is a land of diverse natural attractions like rivers, lakes, streams, highlands and ocean shores.
That's why it is one of the most visited states in the country.
It has some of the most beautiful sights in the world and is considered as the most romantic getaway for families.
The north-east part of Maine in winter is the best place for skiing and snowmobiling, while during spring you can enjoy boating, rafting and fishing on the lakes and streams.
The sandy beaches of Maine are ideal for sunbathing in summer and autumn is perfect for hiking and hunting.
Some of the main attractions in Maine are: imposing Mount Kineo with its breathtaking cliffs and wild rivers used for canoeing and rafting.

For all nature and outdoor enthusiasts, Acadia National park is a heaven. It is a home to a rugged and beautiful stretch of coastline, inland lakes and streams, and forests. Hiking through the challenging trails of Acadia National Park will surely be something special on your trip. Another phenomenal place that amazes most visitors is the Desert of Maine where you can enjoy guided walking tours. Thanks to such diversity of nature and landscape, Maine boasts many state parks protection this richness. Among them the Baxter State Park is one of the most famous. Here you can enjoy fishing and camping, snowmobiling and the lovers of photography can find countless scenic views worth to be memorized on photos.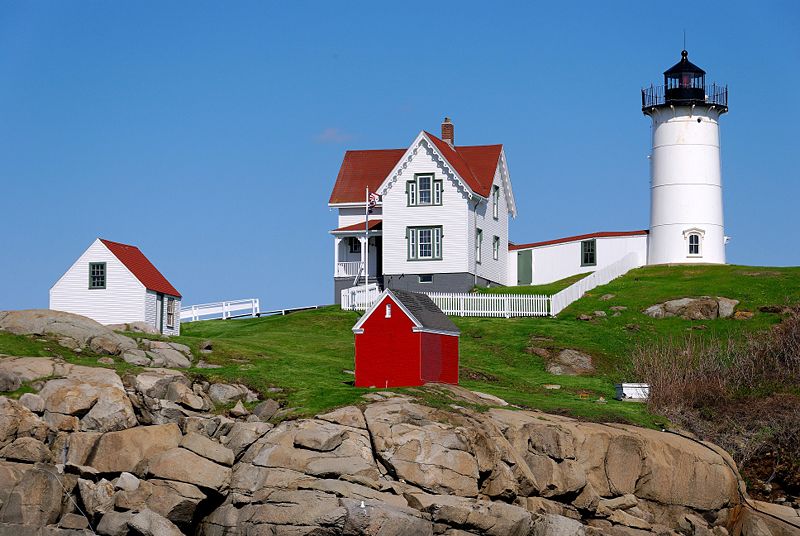 Cape Neddick Lighthouse - one of many you can find in Maine....
Source: www.wikipedia.org/wiki/File:Cape-Neddick-Light.jpg
Author:  Stefan Hillebrand
One of the country most loved activities is skiing. Baker Mountain, Bigrock Mountain and Big Squaw Mountain are the state's most popular skiing destinations. Maine is known as the Lighthouse state and your travel through Maine won't be complete if you don't go on the lighthouse tours where one can learn their long forgotten stories and enjoy gorgeous scenery.
Different type of attraction is surely Eartha, - the largest revolving Globe which is housed in a three-story glass museum attracting thousands of tourist every day.

If you decide to take a tour around the state of Maine in a camper during the peak season, it is recommended to rent one ahead of time and enjoy everything that Maine has to offer! Here are few places where you can rent a camper for your next holiday.


---
Seacoast RVs established back in 1994is is Maine's premier RV dealer for recreational vehicles. They offer different sizes of Class C motor homes and pop up trailers. Renting an RV at Seacoast RVs is very simple and affordable. Each motor home has a full kitchen with refrigerator, microwave and stove as well as air conditioning and generator. They all have sleeping capacity from 6 to 8 people. Vehicles are not older more than 1 or two years, they are very clean and well maintained.

Seacoast RVs Inc
729 Portland Rd.
US Route 1, Saco, ME 04072
(207)-282-9571
Website: seacoastrv.com


---
Source: www.destinationsrvmaine.com

Destination RV Rentals is a family owned and operated company located in Portland Maine, renting motor homes and travel trailers. The rental rates depend on the model of the vehicle; pop-up campers are the most affordable option. It will cost you $105 a day, while for travel trailers you will have to spend from $125 to $190 depending on the size of the trailer. Motor homes are the most expensive and to rent one will cost you from $240 to $270 a day. All vehicles come fully equipped, professionally cleaned and maintained.

 Destination RV Rentals
 204 Roosevelt Trail
 Route 302 Casco, ME 04015
 (207)-655-9608
 Website: destinationsrvmaine.com


---

Source: www.mainecampers.com

Maine Campers is the company renting Volkswagen campers. These are pop up campers that can sleep and transport four people offering very comfortable and compact space. The units are very easy to drive and are equipped with full kitchen with utensils and everything that you need to feel like at home. The company offers two rental packages: Standard and No-Worries plan. If you choose the standard package the rental rate is $800 a week while no-worries plan is a bit expensive $1000 a week.

Maine Campers
13 Pinecrest  Drive
Eliot, Maine 03903
(207)-240-6146
Website: mainecampers.com


---
Visitor's story.....

Right now, advanced technology and science has comforted our life so much that even if one of us thinks about nature the other would curb the idea by shutting him- are you crazy?
I sounded same to my family when I suggested the idea of going camping to Maine.
The place was okay with them but the idea of camping was entirely weird.
My wife suggested hundreds of ways we can enjoy there but didn't agree to camping at all.
Finally they decided to give me a chance with my idea and I proposed pop up camper rentals Maine for same. They felt a lot secure with my idea.
Maine is a lovely place that houses thick forests, rocky coastal and array of low mountains.
Hence the destination we chose couldn't have been better than Acadia national park. The park is home to a historical museum, light house, high ranges and plantation. Cadillac Mountain offers good hiking experience with height of approximately 1500 feet.
What truly stole our heart was Sieur de Mont spring area, it is home to a splendid museum and exceptional hiking trails. Similarly Bass harbor light house was a great visit in the park. Maine is a lovely destination for people like me who prefer excitement and adventure on trips.
We also managed to bargain few awesome antiques from historically set retail outlets. You can enjoy viewing several lighthouses and museums for real fun. Even if your family prefers a dip in city water you can head for family entertainment parks too.
Maine has always allured people with its natural splendor and miscellany; hence it's quite a mixed bag. Wherever we went it was comfortable with pop up camper rentals Maine and I am glad that I opted for them.
 About Us / Privacy Policy / Resources
Go from Pop Up Camper Rentals Maine to Pop Up Campers Trailer Home
Pop Up Camper Rentals Alabama / Pop Up Camper Rentals Alaska / Pop Up Camper Rentals Arizona / Pop Up Camper Rentals Arkansas / Pop Up Camper Rentals California / Pop Up Camper Rentals Colorado / Pop Up Camper Rentals Connecticut / Pop Up Camper Rentals Delaware / Pop Up Camper Rentals Florida / Pop Up Camper Rentals Georgia / Pop Up Camper Rentals Hawaii / Pop Up Camper Rentals Idaho / Pop Up Camper Rentals Indiana (IN) / Pop Up Camper Rentals Iowa / Pop Up Camper Rentals Kansas / Pop Up Camper Rentals Kentucky / Pop Up Camper Rentals Louisiana (LA) / Pop Up Camper Rentals Maryland (MD) / Pop Up Camper Rentals Massachusetts (MA) / Pop Up Camper Rentals Michigan (MI) / Pop Up Camper Rentals Mississippi (MS) / Pop up Camper Rentals Missouri MO / Pop Up Camper Rentals Montana (MT) / Pop Up Camper Rentals Nebraska (NE) / Pop Up Camper Rentals Nevada (NV) / Pop Up Camper Rentals New Jersey (NJ) / Pop Up Camper Rentals New Mexico (NM) / Pop Up Camper Trailer Rental