Pop Up Camper Rentals Massachusetts (MA)
What will be your camping experience without camper rentals Massachusetts?

Massachusetts is one of these states that should be on the "list-to-visit" of every traveler.
And frankly, since it has so much to offer - from skiing and fall foliage drives in the Western Berkshire Mountains to the beaches of Cape Cod, vacation islands of Martha's Vineyard and Nantucket, no wonder that this state is considered as one of the top travel destinations in the continental US. 
And it is much more than just the nature – cities offer very rich nightlife, art centers, abundance of museums and historical monuments….
Western Massachusetts and the Berkshires is the mountain area where visitors can enjoy skiing and in general all kind of winter sports.
Towns in this region are cultural centers with many museums, theatres and live concerts. Contrary to Western Massachusetts, Cape Cod region boasts calm beaches and lighthouses bringing back the nostalgic past.
The largest cities in Massachusetts are Boston and Cambridge.
Both are famous for their universities - Harvard, Smith and MIT, not only known for collection of numerous Nobel prices but also (what is easier to appreciate) for their remarkable architecture. Another interesting attraction in Boston is the Freedom Trail, a walking circuit that passes many iconic settings of the American Revolution.

Boston "Must-to-see"  attractions

Nantucket is a charming, idyllic and romantic island that provides the best spot to spend a fun time. Here you will find many famous beaches, fishing opportunities, biking and hiking trails…. To keep it short – it is the most popular and the most visited place in the state.
The New England Aquarium is an attractive place especially for kids where they can watch and enjoy the most exotic marine life. Also they can watch movies about sharks and penguins. Southwick's Zoo (New England's largest Zoo Park) is the one of the most diverse zoological parks in US.  Visitors may see here many endangered animals in their natural habitats.
Old Sturbridge Village is a must see destination to experience life in Massachusetts from 1790 till 1840. You will find here 59 antique buildings, three-water powered mills and a working farm.
And maybe it is worth to mention here the presence of a little known jewel that you will find in Williamstown:  Sterling and Francine Clark Art Institute. It is a private collection of some best paintings from the period of Impressionism, including great French masters but also Americans – Winslow Homer and Mary Cassatt.
Interesting as it is, the state of Massachusetts offers more than one can imagine. Visiting this state can provide unforgettable experience, and certainly RV-ing across the state will greatly help to live your dream vacations.
To make it easier, here you can find some RV rental companies providing excellent services…..

---

Source: www.fullerrv.com

Fuller RV Sales & Rentals, Inc. is the company that has been in the business for over 20 years providing new, clean and well-maintained vehicles including Class A, Class B, Class C, fifth wheel trailers, and travel trailers. The units are equipped with water heaters, generators, roof air conditioning, microwaves, AM/FM stereos, full bath, kitchens and TV hook ups. The company offers a wide variety of floor plans and sizes for ideal family vacation.And the best - they have the plan: "Try Before You Buy" !



Fuller RV Sales & Rentals, Inc
150 Shrewsbury Street
Route 140
Boylston, MA 01505
(508)-869-2905
Website: usamotorhomerentals.com


---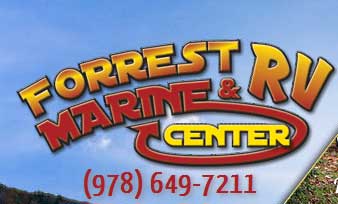 Source: www.forrestrvs.com

Forrest Marine & RV Center is specialized in selling but also in renting recreational vehicles. The company has three different sizes of motor homes ranging in size from 19 to 30 feet which can accommodate up to 7 people. No special driver's license is required for driving these recreational vehicles and the company staff is always friendly trying to help customers decide which unit is ideal for them and their family.

Forrest Marine & RV Center
426 Middlesex Rd.
Tyngsboro MA 01879
(978)-649-7211
Website: forrestrvs.com


---
Source: www.northshorervrentals.com

North Shore RV Rentals is the rental company operated in the Boston area renting pop up campers and motor homes. Pop up campers offered by the company are lightweight and can be towed by almost every vehicle. The units are easy to set up, can sleep up to eight people and come equipped with a refrigerator, sink, gas stove and heater. Some models even have air conditioning. Motor homes that you can rent here are fully equipped including a gas stove, refrigerator, sink, bathroom with shower, heater, air conditioning and generator and can sleep up to five people. All motor homes are very easy to drive. If you rent a pop up camper it will cost you $175 a weekend or $372 a week and for a motor home you will have to spent $175 a day or about $1000 a week.

North Shore RV Rentals
PO Box 2074
Danvers, MA 01923
(978)-395-7789
Website: northshorervrentals.com

---
Visitor's story.....

I have had chance to endeavor several things in my trips perhaps camping was the only experience that was yet to be accomplished in my done list.
It was the solitary obsession on my mind hence when my husband suggested a trip to Massachusetts I quickly recommended camping for the same.
And voila! He agreed to it instantly.
Camping itself is a little challenging so we relied on pop up camper rentals Massachusetts for our trip.
It is undoubtedly an awesome place for visitors as it offers plentiful attractions for them.
Berkshire Hills were amusing for hiking and on its famous Mohawk trail one witnesses some of the most stunning views in the state. Salem was another memorable place we visited as it has vast number of historic buildings and intriguing crafts stuff retailers.
The place truly has several historic sites that really take you back in those periods like John Fitzgerald Kennedy national historic site, Springfield armory site exhibiting weapons and Minute man national historic park that preserves scene of fighting between colonial militia and British troops. We had never perceived so many historic sites together in our life before this.
Well, it is not just history there but lot more fun in other aspects too. You have so much to do like yachting, hiking, sport fishing and skiing.
The basic excitement in camping trips is versatility in lounging and still enjoying amid nature's bloom. It was actually very relaxing when fresh breeze touched my skin uninterrupted; I had few exceptional experiences whilst meditating amongst greens.
It is indeed a very interesting and wide state to visit and quite apt for camping too. We were prepared for any site with pop up camper rental Massachusetts and hardly had worries about insects and animals as such. And finally camping got ticked in my list with this magnificent trip and great camping fun.
 About Us / Privacy Policy / Resources
Go from Pop Up Camper Rentals Massachusetts (MA) to Pop Up Campers Trailer Home
Pop Up Camper Rentals Alabama / Pop Up Camper Rentals Alaska / Pop Up Camper Rentals Arizona / Pop Up Camper Rentals Arkansas / Pop Up Camper Rentals California / Pop Up Camper Rentals Colorado / Pop Up Camper Rentals Connecticut / Pop Up Camper Rentals Delaware / Pop Up Camper Rentals Florida / Pop Up Camper Rentals Georgia / Pop Up Camper Rentals Hawaii / Pop Up Camper Rentals Idaho / Pop Up Camper Rentals Indiana (IN) / Pop Up Camper Rentals Iowa / Pop Up Camper Rentals Kansas / Pop Up Camper Rentals Kentucky / Pop Up Camper Rentals Louisiana (LA) / Pop Up Camper Rentals Maine / Pop Up Camper Rentals Maryland (MD) / Pop Up Camper Rentals Michigan (MI) /  Pop Up Camper Rentals Mississippi (MS) / Pop up Camper Rentals Missouri MO / Pop Up Camper Rentals Montana (MT) / Pop Up Camper Rentals Nebraska (NE) / Pop Up Camper Rentals Nevada (NV) / Pop Up Camper Rentals New Jersey (NJ) / Pop Up Camper Rentals New Mexico (NM) / Pop Up Camper Rentals New Hampshire (NH) / Pop Up Camper Trailer Rental